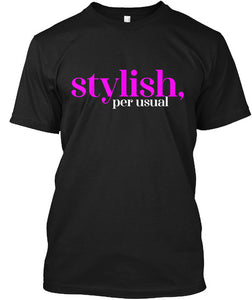 Stylish, Per Usual T-Shirt - Black Unisex
Regular price $35.00 Sale
Being stylish is a statement. It's like telling the world, "You know what world, I've got STYLE and according to this tee, I'm style • ish (stylish)!" Lol! Well, we thought it was cute, funny, and the perfect Spring addition to your closet!
T-shirt comes both in standard Ladies Fit and Unisex. Please be mindful of that when ordering in order to select the best fit for your size.
Ladies fit is equivalent to a women's fitted tee if sized appropriately. Please reference sizing chart to select the best fit for your gender and size.
Women's S = Women's XS
Women's M = Women's S
 Women's L = Women's M
Women's XL = Women's L 
Women's 2XL = Women's 2XL
Unisex fit is equivalent to a man's fitted tee if sized appropriately. Please reference sizing chart to select the best fit for your gender and size.

Unisex XS = Men's XS = Women's S
Unisex S = Men's S = Women's M
Unisex M = Men's M = Women's L
Unisex L = Men's L = Women's XL
Unisex XL = Men's XL = Women's XXL