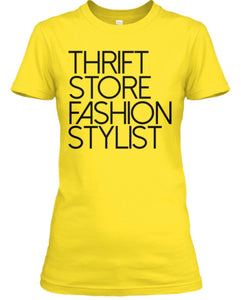 Thrift Store Fashion Stylist T-Shirt - Gold*
Regular price $30.00 Sale
Listen! A real stylista can make even a $0.50 skirtt look AMAZING. Especially paired with this shirt. That's the real style!
*Color of the tee is darker than what's pictured in the mockup. Please understand that the t-shirt is a gold color.
T-shirt comes both in standard Ladies Fit and Unisex. Please be mindful of that when ordering in order to select the best fit for your size.
Ladies fit is equivalent to a women's fitted tee if sized appropriately. Please reference sizing chart to select the best fit for your gender and size.
Women's S = Women's XS
Women's M = Women's S
 Women's L = Women's M
Women's XL = Women's L 
Women's 2XL = Women's 2XL
Unisex fit is equivalent to a man's fitted tee if sized appropriately. Please reference sizing chart to select the best fit for your gender and size.

Unisex XS = Men's XS = Women's S
Unisex S = Men's S = Women's M
Unisex M = Men's M = Women's L
Unisex L = Men's L = Women's XL
Unisex XL = Men's XL = Women's XXL